Digital Microprocessor Based Automatic Karl Fischer Titration Apparatus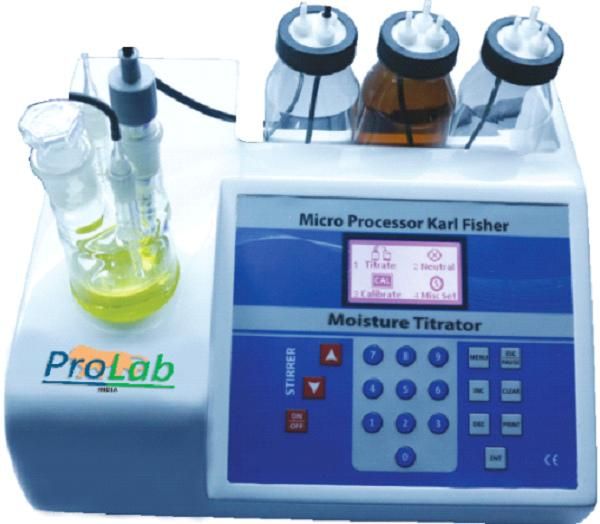 Business Type
Manufacturer, Exporter, Supplier, Distributor, Importer
Model
KFT 630
Make
Prolab India
Titrator Type
Automatic
Click to view more
Product Details
Titration Method
Volumetric
Measuring Range
50ppm to 999999ppm, 0% to 100% of moisture
Measuring Method
Volumetric
K.F. Dispensing System
Highly sensitive motorized dispensing system
Resolution of Titrant Volume
0.01 ml
Indication of Titrant Volume
0.00 to 99.99 ml
Auto Moisture content Calculation
0.00% to 100%, 50 ppm to 999999 ppm
Calibration
Auto K.F. Titer/Factor calculation
End Point Indication
Audio
Utilization Environmental Temperature
5-40°C, Humidity: ≤85%
Wait Time for End Point
Adjustable 1 to 99 seconds
Display
128x64 Graphical LCD
PC connection compatibility
USB Hyper terminal
Clock
In Built Clock with Date & Time Display
Stirrer
In Built Magnetic Stirrer with Adjustable Speed
Reagent Bottles
250 Ml Bottles of Kf Reagent, Methanol & Calcium Chloride
Printer Interface
Dot Matrix Printer Interface
Power Supply
12V/2A DC Supply
FEATURES: 
Microprocessor K.F Moisture Titrator (GRAPHICAL DISPLAY), with built-in magnetic stirrer
Auto computation of moisture in ppm, %age and mg of water. 
Simultaneous display of Results in all three Units, 
1000 sample Storage of date, time batch no. 
Final results are flashed on premium graphical LCD. 
K.F. Reagent dispensing by motorized process.
External dot matrix printer & USB pc attachment facility available.
User friendly ICON BASE MENU Navigation foe easy operation. 
Accessories: Dual Platinum Electrode, Teflon Coated Magnetic Stirring Capsule, 250ml Bottle for K.F Reagent, Methanol, Calcium Chloride, Reagent Outer, 25µl Auto Pipette, Adapter for Calcium Chloride Bottle, Adaptor for K.F. Reagent Bottle, Set of connecting tubes, Titration Vessel, Set of Dispensing tubes & nozzels, Power Supply Adaptor, Rubber Bellow, Instruction Manual, Dust Cover.
Looking for "
Digital Microprocessor Based Automatic Karl Fischer Titration Apparatus

" ?