Digital Melting Point Apparatus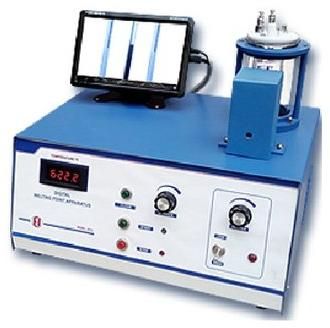 Price :
50,000.00
/ Piece
Business Type
Manufacturer, Exporter, Supplier, Distributor, Importer
Temperature Range
300 Degree
Display
4 Digit, 7-Segment LED Display
Type
Automatic
Click to view more
Product Details
Control
Knob Type Digital
Observation
LCD Screen Though Camera
TFT Screen
Available with High Resolution Camera for Viewing Capillaries
Capillary Glass Tubes
75mm Long, 0.8 to 1.1mm Internal Diameter
Boiling Point Glass Tubes
6×75 Mm Glass Tube
Sample Amount
Fine Powder Properly Dried At a Temperature Considerably Below Its Melting Point 4 – 6 Mm High
Stirrer Speed
Controllable with front knob
Power
230 V ± 10%, 50 Hz. AC
Dimensions
370 x 290 x 290 mm (L x B x H) (Approx.)
Melting Point Apparatus with TFT display & 4 digit LED display is designed for accurate measurement of melting points and for checking the melting range of the solid samples. The apparatus consists of a silicon oil-bath of about 200 ml capacity, covered with a teflon cover with 5 holes, fitted with a special type of oil immersion heater and having three holes for holding the capillaries, one for boiling point tube and one for the thermometer. It is supplied with high resolution camera & TFT display screen to view sample in capillaries.
FEATURES:
Extremely Useful for Pharmaceutical Industry
Highly Accurate & Easy to Operate
Available TFT Screen with High Resolution Camera for Viewing Capillaries
4 Digit 7-Segment LED Display
Digital Readout for Temperature 0.1 °C
Silicon Oil-Bath and In-built Magnetic Stirrer for Uniform Heating
Glare-free Illuminator and Large Magnifier for Stainfree Observation
Oil-Bath: Silicon oil-bath beaker 200 ml capacity with Teflon cover fitted with oil immersion heater. It has three holes for holding the capillaries, boiling point tube and thermometer.
Accessories: Box of Capillaries,  Glass Tubes for Liquid Sample (6x75mm) -2 Nos.,  Magnetic Capsule, Bottle of Silicon Oil – 250ml, Glass Cylindrical Beaker with Teflon cover for beaker fitted with immersion heater, Operation Manual, Dust Cover
Looking for "
Digital Melting Point Apparatus

" ?
Piece